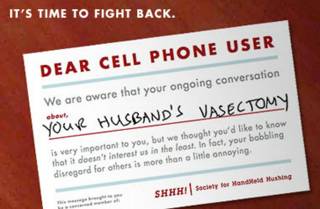 From
Draplindustries Design Co.
:
That's right. We're tired of having to listen to your loud, obnoxious conversations. We don't care about yer new haircut or what "he" might have said to you the night before. (We couldn't believe it either!) It doesn't interest us in the least whether or not you are going to attend the company Christmas party or when you need to pick up yer ugly kids from soccer practice. Nope. Don't want to hear it.
We're fighting back.
Simply
download this PDF
, cut 'em out, and "politely" hand them out to whoever is "spinning a yarn" next to you in the checkout line.
---The Draplindustries Design Co. and Coudal Partners: Concerned about garrulous public chatter, and gosh-dang-it, we're doing something about it.
share on:
facebook